Uninspired by this year's selection for the PFA awards? Feel like other players need to be appreciated for their own "different" qualities? Bored by all the top players receiving accreditation just because they are "good" or have "talent"? Then you need the Alternative PFA Awards – filling the empty trophy cabinets of the unworthy.
The Pretty Fucking Awful Award 2012
Why celebrate the players who cause the fans to say "ooo" and "ahh" when you can praise and commemorate those who make you scream "GAHH" or "FUCK OFF EBOUE" (a front runner for last year's award had it existed).  Here are some of the candidates for this year's "award":
Nicklas Bendtner – Several years ago, Nicklas Bendtner said he would soon be as good Zlatan Ibrahimovic, promising Arsenal fans that many more great things from his pink and attention-seeking boots. But rather than wow spectators of the EPL by reaching such dizzy heights of talent, Nicklas nobly stepped away from the limelight to remain at a more average, Marcus Allback type standard of player – a far more admirable Swede in many people's opinion (probably). And no more has the 2011-12 season proved Bendtner's "nothing special" qualities as not even drop down to Sunderland has managed to coax those pesky goals out of him that may or may not be lurking in there somewhere.
Fernando Torres; Chelsea Foundation have become officially registered charity #876537 for their commitment towards entertainment of spectators all over England for their persistence with Fernando Torres. As fans of the Best League in the World™, the English are tragically under-entertained with the lack of awful players on show every week and the selfish tendency on clubs to only spend a lot of money on "good" players. By Chelsea have broken the mould here signing the "Spanish Ade Akinbiyi" as he has been known purely out of the goodness of their heart to provide the comical stylings of rounding the keeper and then missing an open goal, stepping on the ball and generally not looking arsed.
Franco Di Santo; Why buy a striker who scores when you can buy one who doesn't score? Its this sort of outside-the-box thinking that allowed Roberto Martinez to force his way into the reckoning for such high-flying jobs as manager at Aston Villa, and its astute signings like Franco Di Santo that did this. You can see Martinez would be a devil on the poker table, as Di Santo is an example of the perfect double bluff. Check this out: lulls them into a false sense of security by playing Di Santo and his poor goals/games ratio, and then BAM – he doesn't score. Perfectly executed double bluff. Bravo.  6 goals in 54 appearances for Wigan – a stunning return.
The Poor Fur Agony Award 2012 (The Taribo West Cup)
No one will ever emulate ex-Derby defender Taribo West – the man who loved his pet tarantula so much, he kept it on his head. But people are pretty keen to try.  The Poor Fur Agony Awards celebrate those who try, but generally fail, to mask their lack of talent by distracting them with their barnet. Sadly, football fans may have the brain power of a small child, but sometimes people will stand up on the terraces and shout "WHAT'S THAT ON 'IS 'EAD?!?" in disbelief that he has been conned this whole time. We salute these deceptive little cretins
Alex Song – Taking inspiration from fellow countryman and Liverpool legend Rigobert Song, the Arsenal supremo of poorly-timed challenges come-through ball extraordinaire has ended up with a do which looks like something which might happen as a joke as a secondary school house party. It's a conceivable situation – Alex falls asleep after one too many Frosty Jack's, then those pesky critters Manuel Almunia and Marouane Chamakh come and shave off the sides and dip his hair in some bleach (as they have nothing better to be doing).  The sort of guy you want as a torch in a dark place.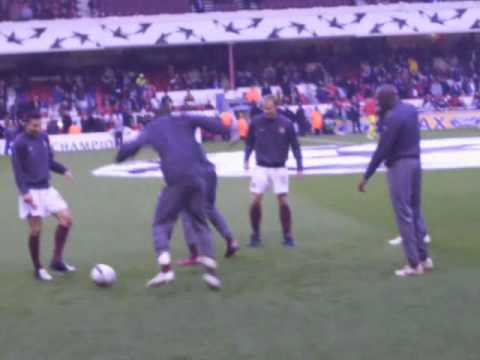 Fabricio Coloccini; Fernando Torres is living proof that having a hair band doesn't help you play better" Coloccini was once quoted as saying (not true). So lets hear it for this hairstyle maverick, who deceives people into thinking he has no idea what's going on with his Old English Sheepdog style do, that spends the majority of its time blocking his eyesight. However, his canine style haircut is accompanied by the canine tenacity and spirit, making going round him no walk in the park (HONK HONK).  Not only this, but he must be commended for his work to keep Head and Shoulders going, so all of us can keep our hair dandruff free. Because we're worth it.
Raul Meireles – Yet more commendable work from the Chelsea Foundation as they drag this Portuguese anarchist in from the streets of Lisbon, and taught him to play football. However, he may have tossed the can of Special Brew to one side and agreed to take off his Dr. Martens, but Raul does not negotiate when it comes to his hair. Much like Sampson, rumour has it that this is the source of the flexible midfielder's courage and ability-to-pop-up-in-the-box-and-score. Take this away from him, and he is nothing. We commend Raul's desire to keep fighting the power, and his role AVB's sacking this season has been very much overlooked – no one tell Raul what to do/where to play.
The Players Failed on Arrival Award 2012
As the Best League in the World™, players come more in and out of the Premier League more than liking Mario Balotelli goes in and out of fashion. And as part of this, you get some absolute gems, but also some right duffers. So, we ask – which ones do you get more pleasure from? Cristiano Ronaldo crashing a 40-yarder into the top corner, or Eric Djemba-Djemba falling over the ball? The latter, every time, so all you kids who love a bit of schadenfreud, this is the awards for you, as we those imports who have given us the less traditional kind of football pleasure.
Samir Nasri – If you want a guaranteed belter of a signing, then you should definitely base it on when a player plays well for half a season – just common knowledge really. The Roque Santa Cruz model, as its officially known, was most certainly applies to the diminutive Frenchman himself, as he rolled into Manchester for a hefty sum of money, middle-finger facing backwards as he strutted away from North London, having not played his best for about 6 months.  Has he played his best since moving up north? No, he has not, and that's what we're here to celebrate today. The Roque Santa Cruz model – paying large sums of money for players who show brief glimpses of promise.
Charlie Adam; Relegation often unearths some real gems, and Charlie Adam is no exception to this tenuous rule.  All that good free kick taking, long shots and generally being better than those around you really paid off for the little Scotsman, as he earned a move to that-club-that-was-good-a-while-ago-and-sometimes-challenges-for-the-title, Liverpool FC.  And he's really living the dream now. Misplaced passes, poorly-timed tackles and general incompetency and led to so much hate thrown towards him that he had to ring up David Ngog for advice on how to cope.  Bring on more of this type of buys this summer please.
Gervinho – "If it ain't broke, don't fix it" proclaimed Arsene Wenger as he once again dived into the Ligue 1 pool of potential transfer talent to source his next signing from the neighbours across the Channel. And he got a gem, when he saw one colliding with the other fish at great speed, and occasionally running straight into the wall, so he snapped him ASAP.  And he wasn't disappointed. Without any apparent awareness of where the goal is or what exactly he's supposed to be doing, Gervinho has had this award in his sights all season, and has actually said in interviews that the image of him holding this trophy aloft is what he imagines when he steps onto the pitch. His dedication to this prize may mean he is worth commending.
Is there anyone else worthy of an alternative PFA award? Let Sam know on twitter @SB_Crocker or in the comment box below.
By Sam Crocker